Oil Mud Reservoir Imager (OMRI™) Tool
SUPERIOR BOREHOLE IMAGES IN OIL-BASED MUDS
The latest addition to Halliburton's borehole imaging solutions is the OMRI™ tool for use in oil-based muds. The OMRI tool generates crisp,
high-resolution digital images of the wellbore down to one inch of vertical resolution, instead of one foot of vertical resolution that is available with conventional logging tools. The extra
resolution makes thin-bed pay and other important features clearly visible.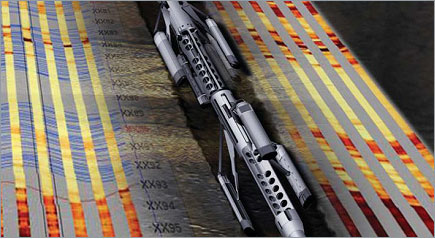 DESIGNED TO GIVE BETTER DATA AND SUPERIOR RESOLUTION
An advanced pad sensor generates six resistivity measurements per pad, each with a vertical resolution of 1 in. and
a depth of investigation of about 3 in. Data are collected at 120 samples per ft with a proprietary signal acquisition scheme optimized for rugose hole conditions. The pads are mounted on six independent caliper arms which yield true assessments of borehole shape and stress, useful in frac jobs and completion designs. The sensor pads are mounted on the caliper arms with unique 2-axis of articulation. This facilitates improved pad contact, and
thus improved images, in less than ideal borehole conditions. This combination of features provides unparalleled image fidelity over the widest possible range of logging conditions.


OMRI DIGITAL IMAGES REDUCE E&P RISKS
Halliburton's OMRI tool reduces E&P risks by:
» Identifying important reservoir characteristics, such as structural and stratigraphic dips, sedimentary geometry and texture, borehole stresses, and lithologic unit thickness
» Recognizing features beyond resolution of conventional logs, including permeability barriers, sand attributes, clasts, vugs, and more
» Complementing or replacing whole core
» Quantifying important reservoir characteristics such as lithology, porosity, water saturation, permeability, fluid profile, and flow potential when integrated
with other logs and well information
» Identifying and quantifying thin-bed pay


BENEFITS
Halliburton's OMRI tool can:
» Give detailed, accurate pictures of the reservoir that answer key geological and petrophysical questions
» Identify thin-bed pay that cannot be seen with conventional logs, particularly in geologically younger, unconsolidated formations
» Increase success rate in multiwell developments by answering questions about sedimentology and structural and stratigraphic analysis, which serve to enhance reservoir management decision making
» Optimize design of completion
programs in order to be more efficient and cost effective