CAST-I - Circumferential Acoustic Scanning Tool - LOGIQ
PRECISE, HIGH-QUALITY DENSITY MEASUREMENTS
CAST-V™ Circumferential Acoustic Scanning Tool-Visualization
The CAST-V™ circumferential acoustic scanning tool- visualization is an ultrasonic tool that provides high- resolution images in both fresh and oil-based drilling fluids. The tool's interchangeable head rotates a full 360° and contains a high-frequency acoustic transducer to provide a full 360° profile of the borehole. A second acoustic transducer is mounted in the scanner housing and is used to measure characteristics of the borehole fluid. A directional sub is provided to orient images to either the high side of the hole or to north. The image mode, run primarily in open hole, consists of 200 points horizontally by 40 samples/ft vertically. The CAST-V tool is designed to operate in conjunction with other DITS™ tools but must be run centralized in fluid filled boreholes.
Applications
Provides complete borehole imaging for accurate, precise formation evaluation
Detailed structural, stratigraphic, and sedimentological analyses for optimized offset well placement, completion design, and hydrocarbon depletion efficiency
Thin bed delineation and improved net pay estimations
2D and 3D borehole geometry and breakout presentations from acoustic caliper measurements
Features
Resolves features impossible to resolve using conventional logging tool Small fractures, vugs, bedding planes, depositional features, thin beds, and rock texture changes provide significant insights that can impact reservoir exploration and development
Real-time fluid cell measures both borehole fluid transit time and fluid impedance. The fluid transit time is used to correct the internal radius measurements made from the scanner head while the acoustic impedance measurement is used as a quality control monitor
Associated Answer Products
Manual dip-picking
Image interpretation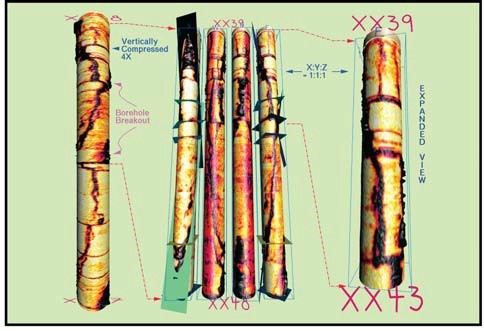 CAST-V™ tool open-hole fractures example—3D projection with perspective view. Borehole breakout (in direction of minimum stress) normal to strike of fractures.